Sale!
The Blue Rose Magazine Issue #3
$10.00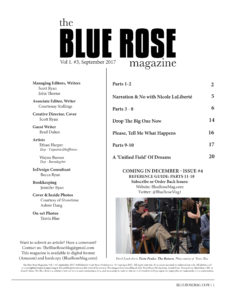 Issue 3 contents
Reference Guide of Parts 1-10 by John Thorne. (Seriously, that should be enough to entice you.) Each part will be split into synopsis, notes and comments, filled with full color pictures from the episodes – courtesy of Showtime.
Interview with Nicole LaLiberté (Darya) by Scott Ryan
The Art of David Lynch vs Season 3 by Courtenay Stallings
An article about The Catherine Coulson Welcome Fund by Scott Ryan
A Tribute to Michael Parks (Jean Renault) by Brad Dukes
How do you get Issue 3?
Follow us on Twitter @BlueRosemag1
Description